The Restaurant Alte Post Südsteiermark
We love Backhendl (Styrian fried chicken) with a hat. For some time now our new and modern cuisine has been recognised with a Gault-Millau hat, which we are naturally very proud of. However, at the Alte Post we think it is particularly important that we retain our guesthouse feel. We love schnitzel, roast pork and Syrian fried chicken at fair prices and put particular emphasis on regional products and top quality ingredients.
Highlights
Daily lunch menu
Exquisite wine cellar
Seasonal products
Styrian delicacies
Medieval banquet in 400 year old ice house
Wine tasting sessions with qualified sommelier
Parties & celebrations for up to 80 people
Our Opening Hours


We are looking forward to see you
Monday to Saturday 11:00 - 21:30 warm meals served throughout
Sunday & public holiday days closed
On following dates our restaurant will be closed:
1st of January till 1st of February 2020

Please reserve a table.
>>> Book a table now!


DER HANS Steakhouse


All you need is meat.
Additionally to our restaurant we've opened up a pretty fancy steakhouse. With a passion for details and even more passion for high quality meat. At DER HANS you can enjoy exclusive steak specialities. From Wagyu beef to Japanese Kobe beef: this is the perfect dinner spot for meatlovers.
Tuesday till Saturday from 6 pm
Closed on Sundays and Bank Holidays

>>> VISIT DER HANS' WEBSITE





You can't make an omelette without breaking eggs.
New takes on traditional recipes and new creations arising from well-known dishes – that's the best way to describe the cuisine at the Alte Post. We follow a consistently sustainable path, select our products with particular care and lovingly prepare them for unique culinary experiences.
With a combination of traditional food and sophistication with a touch of nouvelle cuisine, the Alte Post and Grande Maestro Stefan Nauschnegg win the hearts of guests, who are served high-quality dishes at reasonable prices. Bernd Nauschnegg recommends the best wines from southern Styria.
Pasta la Vista, Baby!
Our head chef constantly surprises with modern
takes on popular traditional dishes. What's more, he also brings
international cuisine to Leibnitz and impresses with sushi,
a magnificent herring dish, perfect homemade Italian
pasta and rustic medieval food in the 400 year old ice house.

Bon appetit!
Sweet treats for the sweet ones.
We are particularly proud of our desserts, cakes, tortes, chocolates, sorbets,
ice-variations, which are always homemade.....mmmm
Medieval banquet at the Alte Post
Due to the Corona regulations, there will be no medieval banquet in 2021.
Enjoy an evening at our ice house, which is over 400 years old
and dine just like old knights once did...
For groups of 25 people or less we do charge a fixed rate of € 650,00
For every further guest we charge another € 25,00
Drinks are charged according to consumption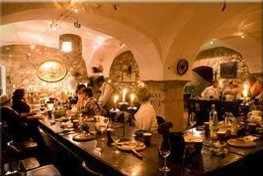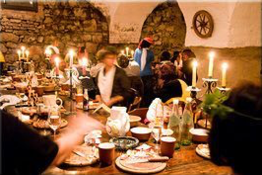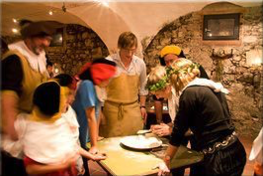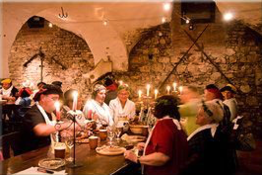 For the Knights of the Round Table

"fettn mit fladnbrot"
(Greaves fat with onions and garlic)

"schniden vom fisch"
(Poached or baked fish fillet with tartar sauce)

"bastetem mit Rodbeermus"
(Pie with Cumberland sauce)

"suben mit guat broken"
(Clear beef broth with meat and vegetables)

"oa vom Bibal"
(Baked egg and tartar sauce)

"rippm und haxn vom Säugerl mit viel guat semlasortten und boutichkraut"
(Roast knuckle of pork and ribs with sauerkraut and bread dumplings)

"bochana Doummerl"
(Pastries)

"kas von Lippitz"
(Cheese board)